Evaluate your machine's health and keep record of your assets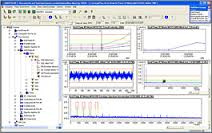 Powerful analysis tools for effective diagnosis of machinery health.
Powerful customizable reporting.
Data exchange with Computerized Maintenance Management Systems.

Easy to use.
Available in 13 languages.
Attractive licensing.
Free-of-charge software updates



OMNITREND is the universal and powerful software platform for almost all PRUFTECHNIK Condition Monitoring systems (handheld and online systems).
Install OMNITREND in a single or multi-user environment to keep record of your machine's health. An intuitive tree structure maps your assets into a database. OMNITREND manages your periodic measurements and provides you with efficient and powerful analysis tools: Overall vibration trends, shock pulse readings, FFT spectra, envelope filtering and many more modern measurement functions help you diagnose machine problems efficiently.

While a task wizard helps you start up a maintenance program seamlessly, measurement setups can be customized, offering a suitable approach for both beginners and experts.
Dynamic narrow frequency band alarms detect machine failures like unbalance, misalignment, bearing failures, resonance, looseness or gear problems. Overall alarms can be set individually, or the predefined ISO alarms as per DIN ISO 10816 can be easily added to keep track of your asset's condition. A large bearing fault frequency database comes along free of charge within OMNITREND and helps identify specific failures and their root cause.
With OMNITREND WebReport, a separate reporting module is available that helps to visualize and report failures quickly. OMNITREND also integrates overall readings, alarms and other important parameters in CMMS systems – ideal for users of SAP, Maximo or other CMMS programs.
With free-of-charge updates, you benefit from low ownership costs and latest enhancements. Keep up-to-date and download the latest software version at no costs.