Fast, reliable, powerful – VIBGUARD IIoT protects your assets with high-end technology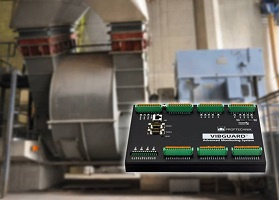 Up to 20 parallel channels
Continuous monitoring
Seamless integration to control systems
Various configurations available
DIN rail mountable
Intelligent data reduction
Wi-Fi Ready Solution
Featuring MQTT protocol for global remote status overview
Fully IIoT compatible



- VIBGUARD Brochure

- VIBGUARD COMPACT Brochure
The Online Condition Monitoring system VIBGUARD offers parallel and synchronous data acquisition on up to 20 analog channels. VIBGUARD continuously protects even most complex assets of unplanned shutdowns. High performance diagnostic tasks are carried out autonomously for ensuring maximum productivity.
VIBGUARD measures time signals, overall values, FFT spectra, shock pulse, orbits and much more on 20 parallel channels for almost all kind of signal inputs. Vibration, Tacho Pulse, temperature and any other relevant diagnostic inputs like torque are processed and can be correlated to the actual manufacturing process.
Measurements are integrated seamlessly to process control systems via a Modbus interface. Intelligent data management tools allow for efficient data reduction. Advanced alarm handling tools like variable frequency band alarms and frequency band trending are available for monitoring specific machine failures like unbalance, misalignment, gear mesh and bearing failures.

VIBGUARD can easily be connected to the buffered outputs of real time protection systems in order to perform in-depth analysis and monitoring of turbomachinery. Due to its fast data processing VIBGUARD is suitable for monitoring of assets with short running cycles such as cranes, machining tools, presses etc. or for machines with highly dynamical processes such as testing stands, wind turbines, drag lines etc.
As with all our Online Condition Monitoring systems you will benefit from free software and firmware updates and low ownership cost.