The High Speed Data Collector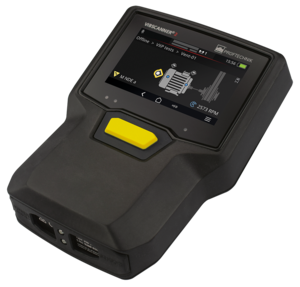 Fast and comprehensive vibration data collection
No time and effort spent on training thanks to the intuitive graphical user interface
Minimum measuring time thanks to parallel digital data processing
Real triaxial data acquisition
Innovative RPM determination based on vibration signal
Touch display: Shock-proof, high-contrast, glove-enabled
Intrinsically Safe (EX) version available
ON THE PULSE!
https://www.vibscanner2.com
Fast: Thanks to its forward-looking measuring principle and parallel acquisition of measurement data, the VIBSCANNER 2 vibration measurement device collects all relevant machine condition data at the push of a button: measuring times are up to four times shorter.
Easy: The handling of the device has been designed in such a way that even new or untrained personnel can effectively perform a reliable measurement – and this without any training.
ALL IN ONE: Depending on the filter setting, VIBSCANNER 2 measures overall values, spectra and time signals synchronously in 3 axes. In combination with a triaxial sensor, the vibration data collector provides even more condition information for each measurement location at the push of a button.
When a machine's RFID tag is scanned with the integrated RFID reader, the device displays the next measurement location along with the position and measurement direction and ensures that no measurement location is overlooked, mixed up or incorrectly processed. The automatic RPM determination based on the vibration signal makes the use of an RPM sensor superfluous.
From many different angles, the VIBSCANNER 2 is a metrological evolution. The touch display is schock-proof, high-contrast, and glove-enabled. The ergonomic design ensures fatigue-free work and is suitable for right and left-handers. Thanks to the long battery life of 10 hours, the measurement task becomes even more care-free.
Using the OMNITREND Center condition monitoring software makes VIBSCANNER® 2 the omni-functional solution for complete offline condition monitoring of rotating equipment.