All-In-One Data Collector, Analyzer and Field Balancer with the Latest Technology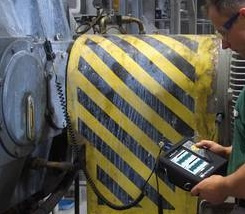 Fast measurements using trending spectra.
User-friendly and intuitive operation.
Powerful analysis and diagnostic tools for machine trouble shooting.
Automatic switchbox support.
Long battery life.
Most of the abnormal vibrations on rotating equipment are caused by unbalance, misalignment, defective bearings, gear damage or looseness. These defects may occur at short intervals. In-depth analysis allows identifying the root cause of such recurring defects.
Useful analysis tools are e.g. resonance tests, bump testing, modal analysis, ODS analysis, cross channel phase, orbit measurements, high resolution spectra analysis, long time wave recording and shaft centerline plots.
VIBXPERT II offers all these powerful analysis tools in one user friendly system. VIBXPERT II has a modular structure that allows you to upgrade the device at any time from a basic package for fast route-based data collection to a full-blown 2 channel analyzer with advanced analysis functionalities.

Besides the high-end analysis measurements capabilities, field balancing options and route data collection functionalities, VIBXPERT II also offers a special machine template mode which is typically used to perform acceptance measurements of newly produced or installed rotating equipment such as fans, pumps, electric motors or generators. The machine templates includes all relevant machine information such as RPM, roller bearing defect frequencies, warning and alarm thresholds, which allow you to provide a standardized, fast and easy acceptance inspection.

As with all our data collectors and vibration analyzers, you will benefit from free software and firmware updates, and low ownership cost.